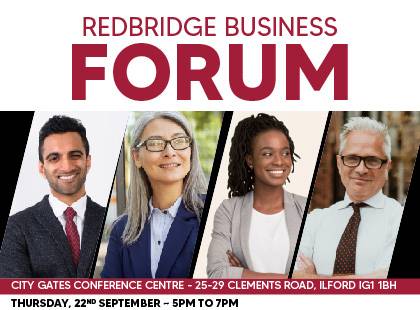 Redbridge business forum
Thursday, 22 September, 5pm – 7pm
City Gates Conference Centre
25-29 Clements Rd, Ilford, IG1 1BH
The forum is a space for business owners and managers to discuss the challenges facing businesses in Redbridge, and to tackle the issues most relevant to today's business people, stimulating new thinking and inspiring action.
This is a unique FREE networking opportunity to connect with like-minded professionals and the local community. Join our team of experts facilitators, local businesses and Council officers on the 22nd of September at the City Gates Conference Centre, between 5pm and 7pm.
Refreshments will be provided.
Register by clicking the button below.