Interview with Cyril Bekoe
Conducted by Michelle Harris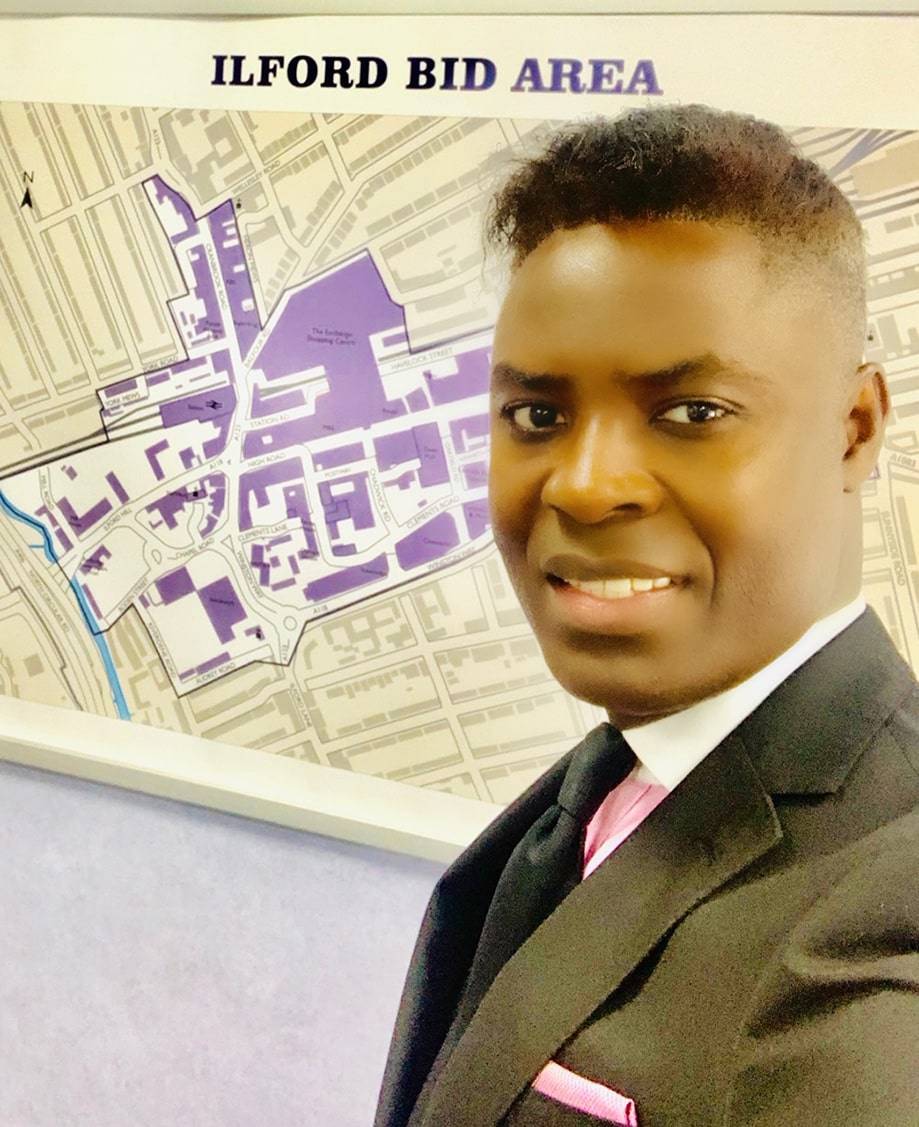 Why do you recommend local businesses should join the Redbridge Chamber of Commerce?
The expertise around the table speaks volumes. From all walks of life, an organisation that has been around for over 100 years and the forum that brings businesses together.  The talent is immeasurable. You can lean to and learn from the SME members and RCC's stakeholders. The programmes are excellent, key events which cater to the needs and requirements of the local area and business, discussion around topical issues that affect our local business and keeping way beyond the curve by listening to feedback garnished from members.  Everybody wins.
Ilford BID is highly respected within the local community. Would you like to elaborate upon their services?
Ilford BID has been around for over 10 years I personally have been involved with the BID for three years and our mandate is to drive footfall into Ilford Town Centre. We have a security team where two BID officers patrol the town centre as a constant presence reassuring business owners and shoppers that Ilford is a safe place. We use our social media, websites and comms channels to advertise Ilford as a destination of choice, a place to invest, work, play and live. We work collaboratively with Redbridge Council to deliver place making interventions and facilitate footfall driving town centre events. 
Can You give some examples?
Our annual Christmas Light scheme brings people into the Town Centre, to enjoy an experience as a community and its success was avidly reported in local press. We make sure the environment is attractive and will help revive interest in the local area.  We also want to attract footfall so businesses can thrive in our beautiful centre which has been benefitted from an amazing regeneration programme.  Celebration of the late Queen's Platinum Jubilee was another resounding success and we have some exciting arrangements for the King's Coronation. Ilford is about business, family, and the community. We want to offer people an experience of Ilford that is exciting and inspirational. We actively promote free and paid community events and activities on our website and social media platforms. 
We work with key partners, such as the London Borough of Redbridge, RCC, and Exchange Ilford  to achieve our objectives.  We also deliver business focused events such as the 2022 Ilford Business Awards which was phenomenal and celebrated businesses in Ilford North and South. We take pride in the area we live and work, and as a part of that, we drive sustainability objectives in the town through our business recycling scheme, awards programmes, litter picking and gardening action days which are open to business and community members. So much is happening and it is very exciting.
Can you tell me more about BID?
We provide training courses and encourage business recognition platforms and have a membership of over 400 business. We have five people on our board who are also local business owners with a key and vested interest in the area. 
BID Chair – Sarah DeCourcy-Rolls –General Manager of Exchange Ilford.
Deputy Chair – Isaac Minto of Metrobank.
Carole Hobbs from Adecco
Aktar Hussain from Boots Plc.
David Haswell from City Park.
Aside the Redbridge Chamber of Commerce and ilford BID – are you involved with any other businesses or organisations?
I sit on the cultural consortium committee for Redbridge Council (culture, arts and events) the council's committee for Black History Month and also sit on the board of the Creative People and Place consortium for Redbridge Council.  I think it is important to collaborate for the benefit of our members, residents and the town centre.
Message from Cyril Bekoe: 'I think Ilford is a great place with a lot of potential, and I am determined to use the voice of the BID to demonstrate that.'